Delivering applications, features, and services at the speed demanded by connected users can be increasingly challenging for organizations with sprawling IT environments spanning edge to cloud. Without the proper platforms and solutions in place, it is difficult to achieve the agility and scalability needed to provide more efficient IT services.
This is why businesses with heterogenous IT environments deploy the Red Hat® OpenShift® platform more than any other solution to unify and streamline application development efforts.
Red Hat® OpenShift® On NUTANIX Hybrid Cloud To Power Any Application At Scale
Red Hat OpenShift is an open-source container application platform designed to accelerate application delivery with agile and DevOps methodologies. It allows enterprises to modernize application architectures toward microservices with a broad range of frameworks, languages, and developer tools while providing a consistent application platform for hybrid cloud deployments. In short, Red Hat OpenShift empowers organizations to deliver more applications and features faster whether deployed on-prem or in the cloud.

To realize the best possible performance from Red Hat OpenShift, IIS recommends running it on Nutanix™ Hybrid Cloud Software. The Nutanix platform merges hyperconverged infrastructure technology, or HCI, with its foundational Acropolis™ OS software and AHV hypervisor. This creates a 100% software-defined hardware + software stack that integrates compute, virtualization, storage, networking, and security to power any application, at scale.
To get the best possible performance out of Nutanix™ Hybrid Cloud Software, IIS in turn recommends running the solution on servers built on the solid foundation of AMD EPYC™ processors.
AMD EPYC™ Processors or Intel Xeon®?
Processor selection plays a crucial role in system performance, impacting speed, costs, and reliability. While customers today can choose from a wide range of processor models designed for high performance computing (HPC) applications, there really is only a choice between two HPC CPU manufacturers, Intel® or AMD.

Intel has been the de facto standard for HPC processors and indeed pioneered many pillars of the technology. Intel and the Xeon® brand have great name recognition, but Intel has not kept pace with innovation at the non-consumer level and no longer provides any intrinsic advantages nor the best value for the dollar in the realm of HPC solutions.

AMD EPYC™ processor-based servers provide customers with a more affordable infrastructure alternative that is easily scalable, simple to manage, and with incredible security features and resiliency as compared to the traditional Intel-based deployments. AMD EPYC™ CPUs operate on a philosophy of choice without restriction, making them the ideal complement for the Nutanix software layer that does the same. Customers can choose the number of cores and sockets that meet their exact needs without sacrificing features or performance.

AMD EPYC™ processors offer high core density per socket – up to 64 cores – and right-sized VDI nodes. That translates into a small footprint which requires less cooling, and low energy consumption and operating costs. Plus, lower processor counts could lead to lower licensing costs. With ultimate security features, the AMD EPYC™ architecture contains an embedded co-processor for secure boot at start-up. AMD Infinity Guard helps protect from attacks and enables quick recovery from a breach or outage.
The bottom line is that AMD EPYC CPUs provide more processing power using fewer hardware nodes for better performance with enhanced security and more aggressive pricing than comparable Intel Xeon processors. And we'll prove it.
IIS performed a total cost of ownership (TCO) analysis for the AMD EPYC 7662 against the Intel Xeon Platinum 8380.
As this graphic shows, AMD's architecture delivers a lower TCO while providing superior performance. Despite a slower clock speed, the AMD EPYC 7662 offers higher core and thread counts, generating an average CPU mark of 71,576, outperforming the Xeon 8380.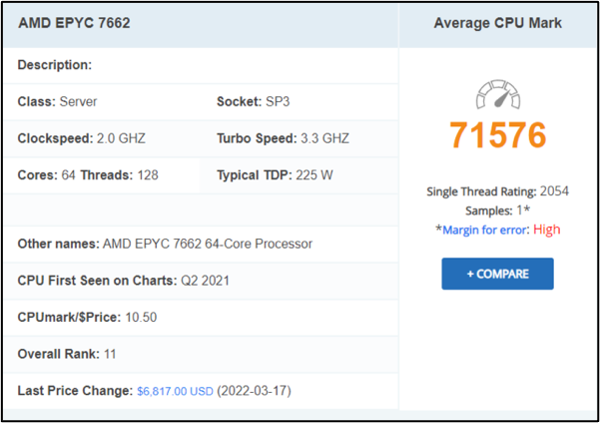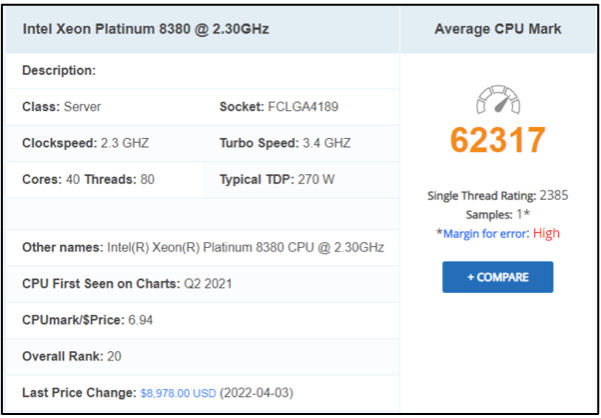 The Intel Xeon 8380 with an average CPU mark of 62,317 offers fewer cores and threads yet costs over $2,000 more than the AMD EPYC 7662.

When it comes to crunching data, time is money. Why pay more for less performance? Get the most out of your investment in RedHat OpenShift and Nutanix with AMD EPYC™ processor-based servers. IIS can design an HCI environment optimized for your business using AMD EPYC™ processors that is more scalable, simpler to manage, extremely secure, and more affordable than other HCI alternatives.
To learn more about AMD EPYC™ processors, read AMD EPYC™ Processors: High Performance Computing New Standard, visit us at iistech.com, and contact us at info@iisl.com.