More and more IT organizations are realizing that not all workloads are a good fit for public cloud infrastructure. Sometimes there is just too much risk. Data needs to be safeguarded. Regulatory compliance may be impossible to ensure on a public cloud platform. If you have petabytes of data or need hands-on control to optimize performance, the public cloud can be unwieldy and cost-prohibitive.
But even when workloads need to be hosted on-premises, most IT organizations would prefer to purchase the computing using a consumption-based pricing model. Consumption-based pricing means only paying for computing resources that you use: gigabytes of storage, compute hours, or megabytes of network traffic. The ideal scenario is to be able to start with a small budget, and only pay more when your application scales up and its workloads consume more resources.
HPE GreenLake Flex Capacity solves this problem. It's a service from Hewlett Packard Enterprise (HPE) that provides on-premises computing hardware and support together with consumption-based pricing.
How Does HPE GreenLake Flex Capacity Work?
HPE GreenLake Flex Capacity is an infrastructure service that provides on-demand capacity and planning, combining the agility and economics of public cloud with the security and performance of on-premises IT. You start by working with HPE Pointnext to choose your technology. Pointnext is the services organization within HPE that will work with you to design an optimal solution for your workloads. You can select from a wide range of HPE and partner technologies, tailored for computing requirements such as:
Big Data
Edge Computing
Hybrid IT
Converged Infrastructure
Backup and Recovery
SAP HANA
VMWare
more
HPE Pointnext brings best-practice experience in all these environments and will work with you to choose and install the hardware and software you need on-premises.
Once your hardware and software has been selected, it is installed on-premises, along with some buffer capacity. Together with HPE, you will design a contract to pay for only the capacity that you use. The capacity measurements will depend on your environment but are likely to include storage, compute hours, and network bandwidth consumed. The contract will include a minimum commitment level which is the least amount your organization agrees to pay each month. The minimum commitment will be less that what you anticipate using but provides HPE with some protection in case that your organization changes plans and does not use the installed capacity as planned.
As mentioned, your installed capacity includes some buffer capacity that can be allocated instantly if your computing needs exceed projections. In this manner, the buffer provides you with protection against under-provisioning and being caught short if workload demand spikes.
When compared with traditional equipment and software purchases (CAPEX), the HPE GreenLake Flex Capacity provides several advantages, as illustrated in this diagram that shows IT spending over time for a traditional CAPEX approach vs Flex Capacity.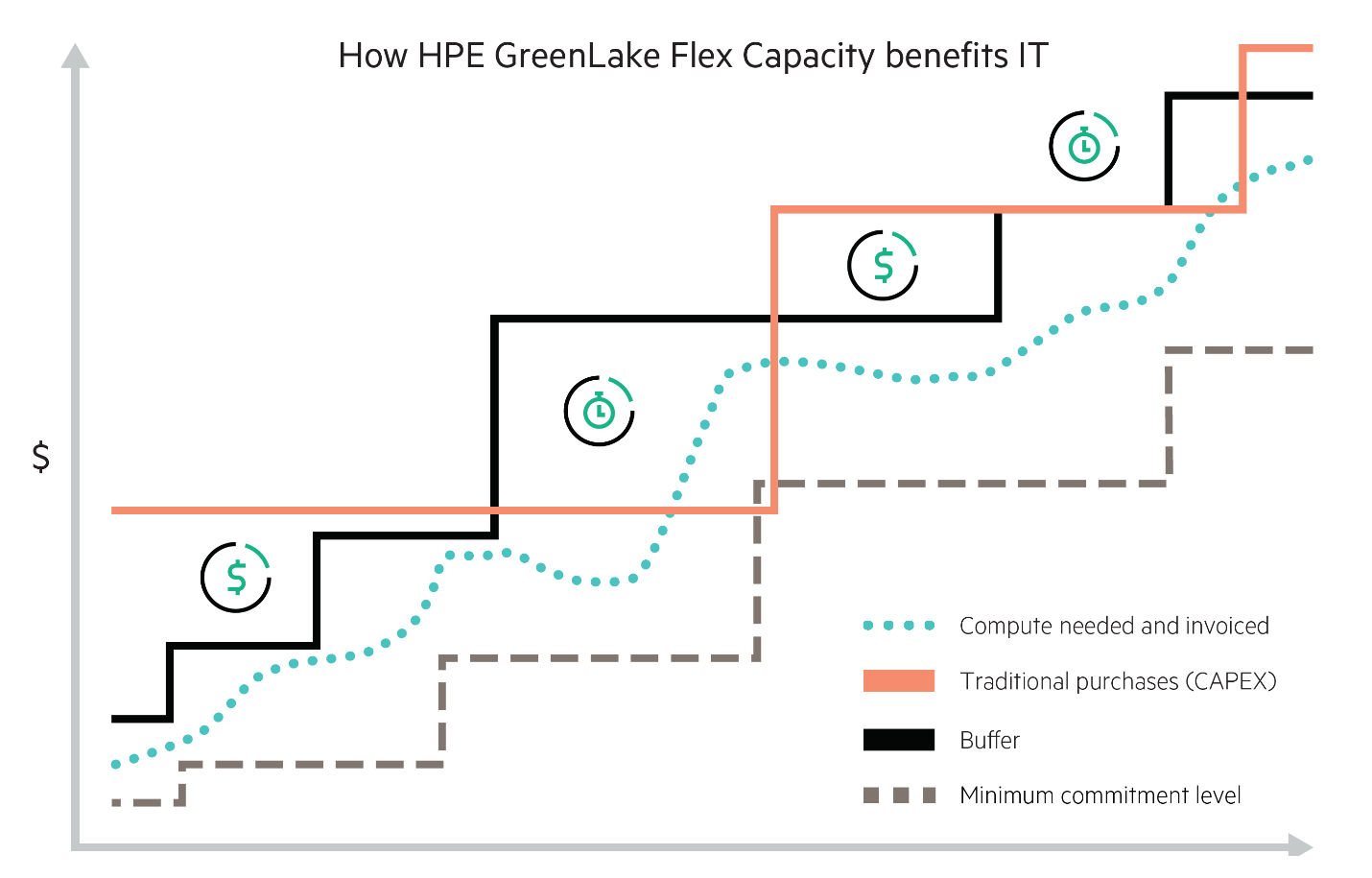 In this diagram, the green dotted line represents the actual computing resources used over time. It rises steadily, but a bit unpredictably, with local peaks and valleys, as applications are rolled out and demand picks up. With HPE GreenLake, this line also indicates the monthly amount that you pay over time. It tracks your capacity utilization – matching costs with consumption.
The orange line represents the CAPEX approach to purchasing computing resources. It shows the typical large step capital outlays for infrastructure that your organization would need to make at each stage. As you can see in the chart, this approach maps poorly to actual utilization, and does not allow for performance peaks.

The places where you see this dollar-sign symbol indicate the times when your organization would have been wasting money with the traditional CAPEX approach. These are the times when you have over-purchased capacity.

Likewise, the places where you see this watch symbol indicate the times when your organization would have been wasting time with the traditional CAPEX approach. These are the times when you have under-purchased capacity and could not meet the demand for business applications. These are the times when IT is a bottleneck, and the business cannot move forward because they are waiting for IT infrastructure to be purchased and deployed.
With HPE GreenLake Flex Capacity, your organization doesn't get stuck having to choose between wasting money and becoming a bottleneck. That's because there is always a buffer of capacity installed. As represented in the chart by the black line, this buffer expands as your demand grows, but you don't pay for that additional equipment up-front. Instead, you pay for what you use, and the buffer is there to protect you in case of surges in demand, so that IT does not become a bottleneck.
In addition to matching expenses to consumption, the Flex Capacity model reduces the risk your IT organization faces when committing to new projects. Without the need for the major capital investments, there is less "sunk cost" invested in each new project you roll out. If a project succeeds, consumption and expenses grow together. If it fails, there is little risk, because the extra capacity is returned to the buffer and is available to support other projects.
HPE GreenLake Hybrid Cloud
In addition to flexible on-premises computing infrastructure, HPE GreenLake also offers a Hybrid Cloud solution that integrates and optimizes on-premise and public cloud computing. The Hybrid Cloud solution provides processes to manage cloud resources, along with on-premise computing, with a single set of cost, security, and compliance controls. HPE GreenLake Hybrid Cloud delivers cloud-native operations, compliance, and financial control for AWS, Microsoft Azure, and Microsoft Azure Stack.
For example, Microsoft Azure Stack can be delivered on-premise using the HPE GreenLake flexible consumption model using HPE ProLiant for Microsoft Azure Stack. This enables your organization to run workloads on-premises as Azure-consistent services that are fully compatible with the Azure public cloud. As a result, workloads can be ported easily between on-premises infrastructure and the Azure public cloud to meet changing business needs.
Having the public cloud deployment option to augment your on-premises infrastructure can help your organization be flexible and responsive. For example, if you need to quickly roll out an application globally, you have the option of moving it to the public cloud in the short term, and then moving it back into local datacenters as they come online in each geography.
In this scenario, the cost for your IT usage is based on actual metered consumption of Azure Stack on-premises or in Microsoft Azure public cloud. You would have a single contract for your on-premises servers, storage, networking, operating software, and certain Microsoft Azure public cloud and Azure Stack services. Both on-premise and public cloud usage would be charged via a single monthly invoice. Furthermore, you would have access to a single usage portal that reports the services you use and your capacity consumption, so you can see utilization and cost trends across both on-premise and cloud environments.
HPE Consumption Analytics Portal
In order to track consumption and manage an HPE GreenLake Flex Capacity infrastructure, you use the HPE Consumption Analytics Portal. This platform provide visibility into usage and costs, control over spending, and powerful capacity planning capabilities.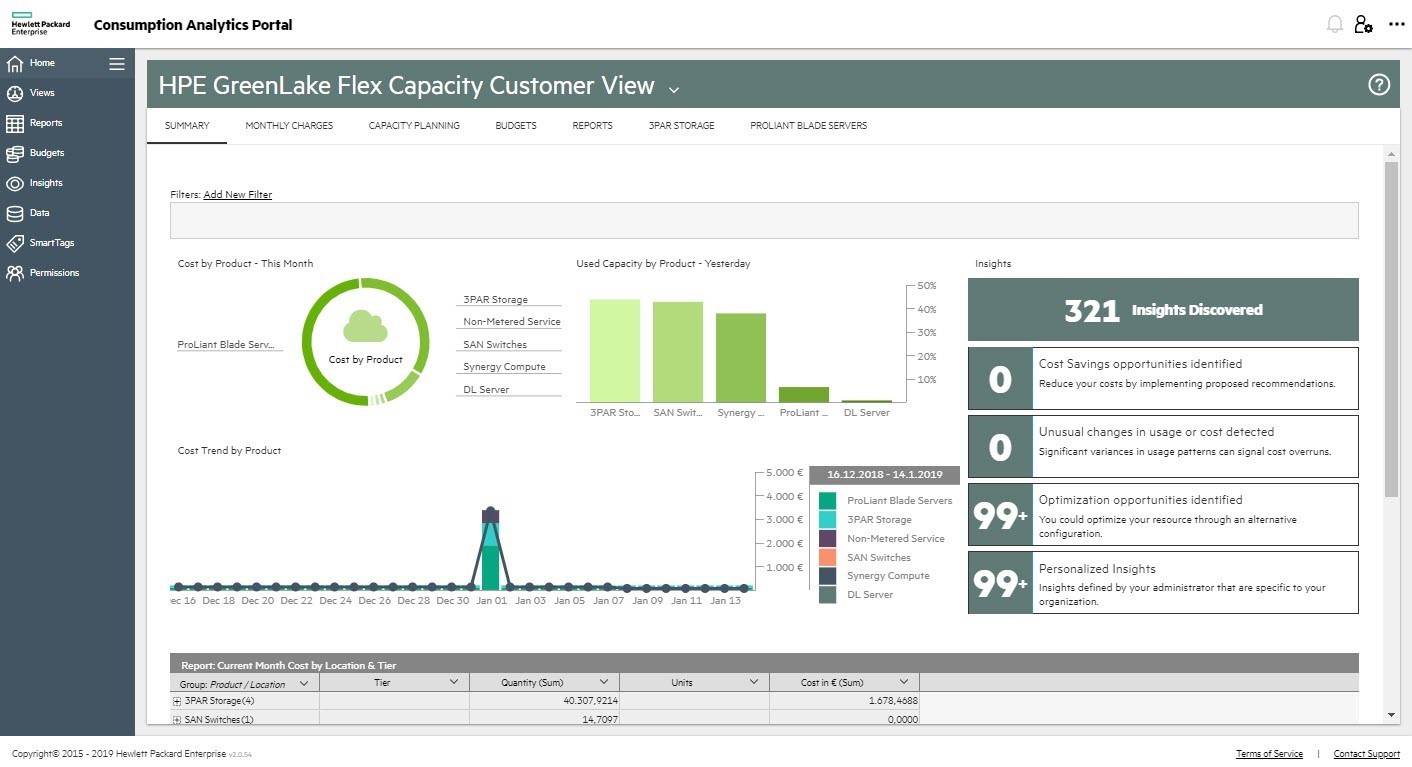 The portal provides pre-defined reports showing cost by product, capacity utilization, spending against budget, etc. In addition, you can create ad-hoc reports tailored for specific audiences. For example, you might want a high-level financial report for your CFO that shows aggregated costs, budgets, and ROI. On the other hand, your DevOps team might want to see a detailed utilization report for the infrastructure supported a new application rollout.
You can also use this portal to analyze costs, produce forecasts, and manage budgets. While billing is based on monthly average usage, in the HPE Consumption Analytics Portal, you can break down costs daily to get an understanding of the average daily cost for specific resources, and the trend line. You can compare costs for specific resources vs last month or last year. You can even set up monitoring agents to email you when a project's costs are trending over budget.
166% ROI from HPE GreenLake Flex Capacity
The consumption-based pricing and managed infrastructure combination of HPE GreenLake Flex Capacity confers a variety of benefits. We've discussed the management flexibility, and benefit of matching costs with consumption, but in addition, moving to the HPE GreenLake Flex Capacity model provides measurable return on investment to customers. According to a Forrester study, commissioned by HPE, organizations moving to HPE GreenLake Flex Capacity achieved a 166% return on investment over three years.
To reach that conclusion, Forrester studied a set of GreenLake customers and quantified the benefits and cost savings achieved from:
Increasing business productivity by improving time-to-value of business initiatives.
Realizing CAPEX savings by reducing the need to invest in IT infrastructure.
Providing organizations with a flexible infrastructure to scale quickly as required by the business.
Reducing or removing the time associated with capacity planning.
Improving IT productivity with additional support resources and HPE's expertise.
Providing self-service reporting and dashboards on their metered usage to budget and forecast demand.
The customers in Forrester's study were global organizations with at least 5 petabytes of storage and $4 million worth of physical assets managed under HPE GreenLake Flex Capacity. These organizations observed a payback on their investment in GreenLake within six months of full implementation. Some of the key benefits they achieved included:
65% faster time-to-market for deploying global IT projects.
30% lower CAPEX spending.
90% savings on professional services and contractor costs. This was primarily the result of replacing legacy infrastructure and the need for the specialists who maintained it.
40% increase in IT resources productivity. This was the result of being able to shift focus from break-fix to strategic support of business initiatives.
IIS Can Help You Evaluate HPE GreenLake
International Integrated Solutions (IIS) is a consultant, integrator, and managed services provider with deep expertise in HPE GreenLake and the entire HPE product line. IIS is a distinguished HPE partner, winning HPE Global Partner of the Year in 2016 and Arrow's North American Reseller Partner of the Year in 2017.
Having solved a myriad of problems for hundreds of customers, IIS brings a holistic view of the datacenter and can help you evaluate the potential benefits of HPE GreenLake for your organization. We can help you identify appropriate workloads and architect a solution around HPE GreenLake Flex Capacity. Once you are up and running with GreenLake, we can provide managed services to ensure your applications are running smoothly and costs are managed effectively.