Today's IT operations represent a plethora of applications, infrastructure, and monitoring and management tools. IT resources are converged and composable, virtualized, residing on-premise and in public and private clouds. Yet, even as IT operations seek ways to reduce costs and increase efficiency, these same organizations struggle to visualize the impact of IT on the overall organization.
This goal seems attainable in this era of big data, analytics, artificial intelligence and machine learning, but it requires a shift away from manual, siloed management solutions to predictive, automated operations management. A successful transformation of existing IT operations requires a methodical assessment of current state versus desired needs combined with intelligent software.
IIS is your business partner for navigating your path to a transformed IT operation. One that aligns IT services and operations to the your business priorities. One that allows you to easily understand the impact of IT on your business – in real time.
It's Time for AIOps
Artificial Intelligence for IT Operations (AIOps) is the recommended solution for transforming IT Operations. By combining big data and AI or machine learning, IT operations processes are enhanced or replaced. The result is improved availability and performance monitoring, event correlation and analysis, IT service management, and automation. In short, AIOps makes your IT operations smarter and easier to manage.
Deploying an AIOPs solution is an incremental process, as each phase builds upon the previous one.
Phase 1 – Aggregate and assess historical data.
Phase 2 – Ensure access to past, present and future states of IT.
Phase 3 – Assess platform ability to ingest and assess log data, text data, wire data, metrics, API data and social media derived user sentiment data.
Phase 4 – Select tools that can support the 4 phases of IT operations-oriented machine learning. These include visualization & statistical analysis, automated pattern discovery, pattern-based prediction, and root-cause analysis.
IIS ITOM/ITSM Assessment Services
IIS understands the importance of a thorough assessment of existing tools, IT architecture, monitoring capabilities analytics and reporting. Our Assessment Services will provide the assurance and planning your organization needs to transform its IT operations.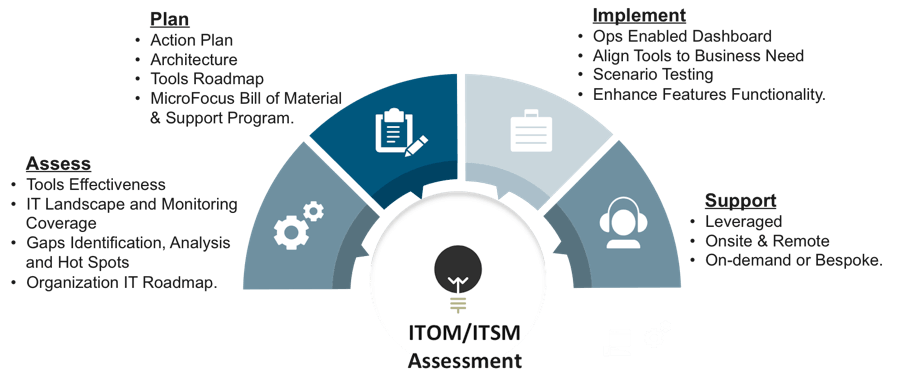 During the discovery phase, our team will assess current processes and historical data, and identify resources and opportunities to improve performance. Based on the insight gained, we will develop a model describing the IT environment and available data sources.
We build upon these findings to develop guidelines and principles, establish SLAs for best practices and strategize IT service delivery. Finally, we collaborate to define desired outcomes, orchestrate processes, apply machine learning functionality and define processes to provision, patch and manage IT compliance methods with regulatory standards.
In addition to helping you prepare for and manage the deployment of an integrated ITSM and ITOM framework, we also provide services to manage integration with existing monitoring tools and manage data migration. Our services methodology is aligned with global best practices such as ITIL and ISO 22000.
Micro Focus Operations Bridge Suite
The Micro Focus Operations Bridge (OpsBridge) Suite consolidates IT management usually found in disparate solutions, into a single platform. OpsBridge includes Hybrid Cloud Management, Data Center Automation, OpsBridge and ITSM to provide a comprehensive monitoring and management solution. Micro Focus is an early adopter AIOps, with OpsBridge integrating AI functionality (provided by Vertica, the industry leading advanced analytics SQL database with built-in database machine learning) since 2014. The platform integrates with more than 100 existing tools and technologies to consolidate event and performance data in one place.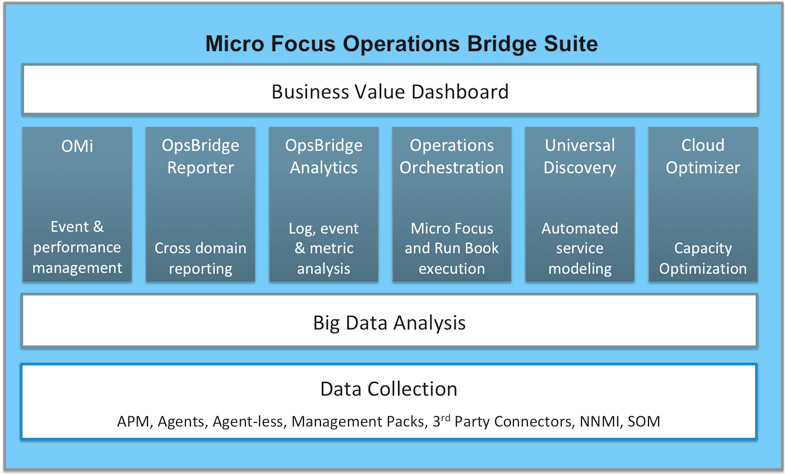 A successful transformation of existing IT operations requires a methodical assessment of current state versus desired needs combined with intelligent software.
Micro Focus OpsBridge is the first containerized IT operations monitoring solutions, incorporating both Docker and Kubernetes. The benefit of a Docker container is that it encapsulates discrete components of application logic without the need for an operating system (which is required in a virtual machine). Containers are easily packaged, lightweight and designed to run anywhere. Kubernetes is the orchestration tool used to manage multiple containers.
The container-based architecture allows for faster deployment (e.g., minutes vs. hours); zero-downtime rolling upgrades vs. planned downtime of days or weeks; scalability on demand vs. months to scale out; and support for bare metal, virtual, public or private cloud.
OpsBridge benefits include:
Containerized and automated IT Operations - providing auto scaling, online patching and automated IT monitoring
Visualize IT operations through a business lens using the Business Value Dashboard to understand real time status of KPIs
Automated Discovery – consolidate and organize data in a dynamically updated model of infrastructure and services, tracking changes and visualizing impact
Measure cloud services, SaaS, or application impact on the business – monitor cloud services, SaaS application performance to determine which weak link is impacting the business, maintain SLAs, measure and optimize resource
Real-time performance analytics of all your IT and business data – automate machine learning, anomaly detection, predictive analytics of events, topology, metrics & logs with no configuration required
Automated Remediation – 5000+ run books including out-of-the-box integration to popular IT service management tools such as Microsoft System Center Operations Manager, IBM Netcool OMNIbus, Oracle Enterprise Manager, Zabbix, Zennos, SAP Solution Manager, ServiceNow.
Micro Focus Operations Bridge Suite allows IT operations to gain end-to-end visibility of infrastructure and services whether it is on premise or in the cloud. The result is the ability to analyze and predict the impact to the business and optimize resource allocation and manage costs.
Interested in Intelligent IT Operations?
If you're frustrated with a dependency on manual processes, siloed monitoring tools and the inability to understand the business impact of IT, it's time to talk to IIS.
We ready to talk to you about our assessment services and the benefits of Micro Focus Operations Bridge. We will help you navigate a path to a system that can sense the state of the environment, analyze the data to identify operational problems or changing resource demands, and dynamically adapt the environment to resolve issues. That's an autonomous IT operation.
Are you ready to transform your IT Operations?