Data is the life-force of the modern enterprise. Data-first modernization is key to unlocking the value of data for supply chains, distribution models, product development, manufacturing, marketing, sales, and more to drive business forward. It enables organizations to accelerate decision velocity, speed innovation and time to market, reimagine customer experiences, and improve operational efficiency.
The challenge is how to manage all that data. The industry sets new records for growth every year; in 2021 it is estimated that 75 ZB of data was created. A Zettabyte is equivalent to 1,024 exabytes or 1,000,000,000,000,000,000,000 bytes, and soon we'll be counting data volume in Yottabytes, which is 1,000 Zettabytes.
One would think all this data would speed an organization's digital transformation when in fact the opposite is often true.
Businesses create a wealth of information daily, but fragmented data management tools, manual processes, and infrastructure silos supporting the data lifecycle from dev/test, production, protection, to analytics and DR are actually impeding transformation efforts.
Customers across all markets are struggling with the complexity of managing data and sprawling infrastructure. This not only creates a roadblock to innovation and agility, but it also produces business risk. And it's only going to get harder as data volume continues to grow, apps continue to evolve, and infrastructure continues to spread edge-to-cloud.
In truth, infrastructure has become far too complex for humans alone to manage.
The cloud is needed to provide operational control, scalability, and financial agility, AI is needed to power automation and parse billions of data points in real-time to drive insights, and new storage solutions are needed to streamline access to data. Yet storage hasn't changed in 20 years.
Storage is still plagued with complexity through silos using different flavors to support the variety of apps across distributed environments. It still requires specialized domain expertise to manage its lifecycle from install to upgrade.
This contributes to IT professionals wasting time fighting fires instead of innovating for their organizations.
IT needs to shift from "managing storage" to "unleashing data". Organizations need to:
Unlock their data by streamlining access for the developers, analysts, and scientists who create value from data
Protect their data by safeguarding it against threats and disruptions
Mobilize data by accelerating and freeing their data across every cloud.
A cloud-native, AI-driven, data-centric infrastructure is the answer to breaking down silos, eliminating complexity, and accelerating a data-first transformation.
HPE GreenLake consumption-based IT services – the cloud that comes to you – is the solution. HPE GreenLake offers a wide range of cloud data storage, protection, and infrastructure services built on a cloud-native data infrastructure installed and supported in your on-prem environment. Customers enjoy a unified experience across public and private clouds while only paying for the resources they use when they use it.
Introducing Alletra and the Data Services Cloud Console
And now, the next step in the evolution of the HPE GreenLake Everything-As-A-Service ecosystem comes HPE GreenLake Block Storage as a Service.
AI-driven, built for the cloud, supporting both traditional and modern applications, and available as a service, HPE presents the Intelligent Data Platform: HPE Alletra powered by the Data Services Cloud Console.
HPE Alletra is a bold paradigm shift for data infrastructure across edge-to-cloud. It is a portfolio of cloud-native data infrastructure managed by the Data Services Cloud Console that powers data with the cloud experience wherever data lives. It enables IT to shift from owning and maintaining data infrastructure to simply accessing and utilizing it on-demand and as-a-service.
HPE Alletra consists of an ever-growing suite of workload-optimized storage solutions built with a common management and operational experience. The first two models to be introduced under the Alletra brand are the HPE Alletra 9000 and HPE Alletra 6000. Both are proven and tested systems built from the DNA of HPE Primera and HPE Nimble Storage respectively, and purpose-built for cloud-native control for a unified cloud experience.
HPE Alletra 9000 is ideally suited for mission-critical workloads with extreme latency sensitivity and availability requirements. It features a unique, massively parallel, multi-node, and all-active platform for predictable and consistent performance at scale, backed by a 100% Availability Guarantee. Proven for 96 SAP HANA nodes in 4U, its performance density is ideal for large scale databases, large scale containers and virtualization, or large scale consolidation of mixed workloads
HPE Alletra 6000 is best for business-critical workloads with strict SLAs for availability and performance such as databases, testing/development, and virtual machine and container farms. It is built on an ultra-efficient architecture designed to deliver fast, consistent performance with industry leading data efficiency and backed by 6-nines of guaranteed availability.
Both these platforms are all-NVMe, AI-driven, and eliminate forklift upgrades with non-disruptive data-in-place upgrades. There are no knobs or configurations to adjust, and always-on data services and app-aware intelligence eliminate performance and efficiency trade-offs. HPE Alletra models provide resilient storage with a no single point of failure platform that deliver on recovery SLAs with fast, simple, integrated backup and recovery –on-premises and in the cloud.
Data Services Cloud Console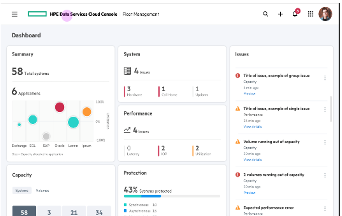 Data Services Cloud Console is built on a unique cloud-native architecture that delivers operational agility for the cloud-everywhere experience by separating the infrastructure control plane from the underlying hardware and moving it to the cloud. It provides a single destination for Alletra users to manage all data and infrastructure services from anywhere, on any device, with the reliability of an on-prem solution.
This separation above edge-to-cloud infrastructure eliminates the complexity, fragmentation, and limited visibility and control of on-premises software to drive optimized automation across entire fleets of infrastructure. Data Services Cloud Console breaks down barriers and removes the complexity that beset data and infrastructure management today – empowering organizations to transform faster with unified data operations as a service. For example, new devices are auto-discovered and activated for simplified deployment, provisioning can now happen at a global level in minutes eliminating guesswork in workload planning, upgrades are non-disruptive and invisible, and data protection can be orchestrated from edge to cloud through a single pane of glass.
Modernizing data storage and access is imperative to keep pace with advances in applications, hybrid cloud infrastructure, and AI-driven insights.
HPE Alletra and the Data Services Cloud Console do just that while realizing cost savings through its subscription-based model and cloud ownership experience, accelerating time to market with faster decision making, and saving valuable IT resources by automating manual processes and eliminating silos.
Contact IIS at info@iisl.com to learn how we can help you modernize data storage and unleash the power of data with HPE Alletra and the HPE GreenLake Everything-As-A-Service ecosystem – the cloud that comes to you.