"We are delighted to be chosen as one of the leading hybrid cloud system integrators in the Northeast."
— John Iacone, CEO, International Integrated Solutions
Choosing the right IT provider is an important step for many companies looking to digitally transform their processes. Companies are increasingly turning to data center solutions, cloud services, and security solutions to help scale their operations.
At International Integrated Solutions, we understand that the technical world can be hard to navigate. That's why it's so important to us that we guide our clients through the more complex details of an IT project.
And our dedication to meeting our client's needs has paid off!

We've recently been named a global leader on Clutch's annual report of top B2B service providers. Our specific award segment is for Cloud Consultants under the IT Services umbrella. This a prestigious accolade, considering Clutch's extensive vetting process.
Clutch is a globally-trusted platform that ranks B2B service industry experts on a number of criteria. Besides market presence and technical experience, verified client reviews play a large part in their scoring methodology.
Clutch's team of business analysts personally interview a company's clients to get a comprehensive overview of a project. They then translate that content into case study-like reviews and curate that information on ranked directory lists.
So far, we've earned an overall 4.7 out of 5-stars for our performance. Just take a look at what our clients have had to say: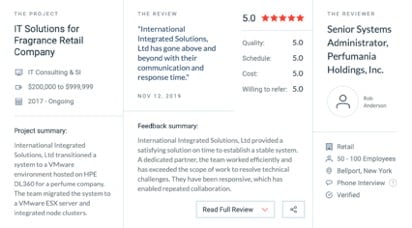 With our strong client success record, we're also featured on Clutch's sister sites. International Integrated Solutions is considered a leader in cloud consulting according to The Manifest, a business guide hub. And Visual Objects includes company descriptions of top IT consulting firms.
As an award-winning IT provider, we're well-equipped to help our clients gain a competitive business advantage. Contact us today to see how we can help your company grow!