HPE's announcement of Primera on June 18, 2019, is as much about easing the administrative burden of high-end storage arrays, as it was about hardware performance. Certainly, HPE Primera provides leading-edge flash array technology for mission-critical enterprise applications and large-scale workload consolidation. But, perhaps even more importantly, the product heavily leverages AI from HPE InfoSight, along with a containerized storage operating system, to deliver resiliency and simplicity that significantly ease the burden of maintenance, tuning, and administration. HPE is redefining the high-end storage market to be as much about resiliency and simplicity of ownership, as performance.
With Primera, HPE is leading the way forward in three areas:
Performance – Primera leverages new solid-state storage technologies and massive parallelism to achieve extreme performance.
Resiliency – Driven by AI from HPE InfoSight, Primera self-optimizes to eliminate down-time and meet SLAs, responding dynamically to changing workloads and traffic.
Simplicity – Primera provides a cloud-like administrative experience including simple, on-demand provisioning, management, and upgrade capabilities that help organizations tame IT complexity.
This blog post examines each of these three areas and describes how HPE designed Primera to lead the market by addressing unmet customer needs for reducing complexity.
Performance
Although HPE is betting heavily on resiliency and simplicity to drive the success of Primera, the design appears to also provide everything needed to ensure cutting edge performance. HPE is marketing Primera at Tier 0 storage, the fastest level designed for the most demanding applications.
New Solid-State Technologies and "All-Active" Architecture
The product architecture is designed for massive parallelism and takes advantage of capacity and performance improvements available in newer solid-state storage technology. NVMe is standard today, and industry sources indicate that NVMe over Fabrics (NVMe-oF) will be supported by Primera soon.
Because NVMe supports at least three orders of magnitude higher parallelism than SCSI, the storage controller ASIC (which provides performance optimization services) has been re-architected from a 3PAR design to optimize internode concurrency. With such high levels of concurrency, CPU and DRAM become bottlenecks, so ASIC acceleration is necessary. Each controller contains two Intel Skylake CPUs and up to four ASICs.
Primera has what HPE is calling an "all-active" architecture. This means that all controllers and caches are active at all time. Sometimes referred to as "active-active", this architecture contrasts with the more common "active-passive" design where only one controller is active and the other is held in reserve for failover. Primera's "all-active" architecture provides lower latency and higher throughput than would be achieved with an "active-passive" design.
Storage class memory (SCM) will be supported as soon as Intel launches their dual-port Optane SSDs. Dual-porting is required to support HPE Primera's 100% availability guarantee.
Even before adding in NVMe-oF and Optane, performance looks very strong. According to an HPE source, "Latencies even with large configurations under pressure are in the low hundreds of microseconds." Chris Mellor at Blocks & Files writes that "A 4U 4 controller system could in lab conditions pump out 2.3 million IOPS and 75GB/sec of data with sub-millisecond latency. This approaches high performance computing territory."
To put these performance numbers in a real-world context, HPE's press release claims that Primera provides "122% faster Oracle performance", but does not say compared with what baseline system.
Simple, Scale Out Design
At the system level, up to four nodes are supported and no cables are required because the nodes plug into a passive backplane (similar to a blade chassis) for simple configuration and high reliability. Each node is 2U (up to 1PB) or 4U (up to 2PB) – delivering significant performance and capacity density improvements. An HPE Primera 2U node provides eight dual-purpose (SAS or NVMe) disk slots per controller pair. A node includes up to 12 host ports (up to 48 total per system) with 25GbE or 32Gb FC connectivity and redundant, hot-pluggable controllers, disk devices, and power and cooling modules.
All-active Architecture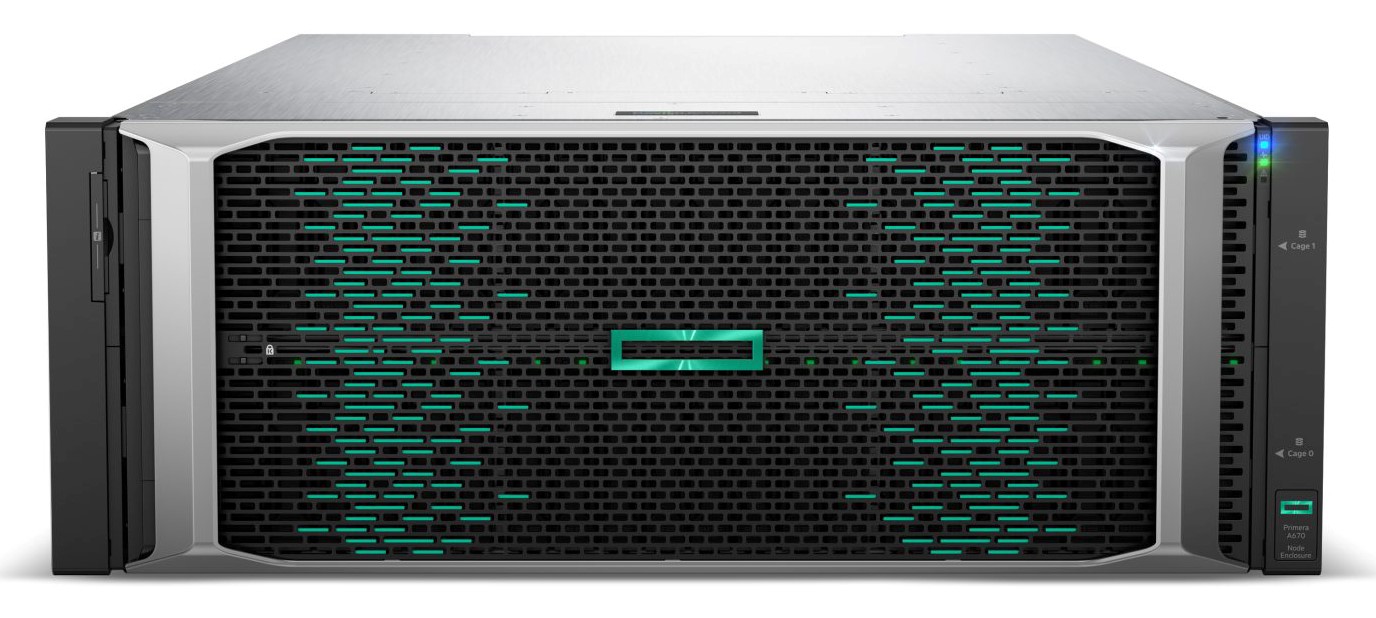 HPE Primera 4U Node
Resiliency
To maximize resiliency and availability, HPE Primera has been designed from the ground up to leverage the AI capabilities provided by HPE InfoSight. The company is so confident in this technology that they are selling Primera with a 3-year 100% availability guarantee.
100% Availability Guarantee
HPE Primera comes standard with HPE Proactive Care which includes a 100% data availability guarantee. If a customer experiences a qualified outage, HPE works with them to resolve the cause, and provides credit toward a future purchase (or upgrade) of Primera. The HPE credit is up to 20% of the original purchase price of the array. To be eligible, a customer needs to have enabled InfoSight, and have kept up-to-date with patches and OS/firmware releases. Details can be found in the HPE 100% Availability Guarantee document.
Less important than the details of the guarantee, however, is the fact the HPE is publicly standing behind Primera as 100% reliable. Other high-end arrays guarantee 99.9999% availability, but that still leaves wiggle room. If you have a problem with one of those other arrays, maybe you were just unlucky. HPE, on the other hand, is taking a leadership position and guaranteeing that you will not have any downtime. It's a bold move that demonstrates great confidence in their technology.
AI for Systems Management and Optimization
At the high-end of the market, enterprise storage, and IT infrastructure in general, is becoming very complex, and challenging for people to manage effectively without AI assistance. HPE InfoSight is the industry's most robust AI system for managing complex infrastructure and it is fully integrated with Primera. AI models trained by InfoSight are embedded in the Primera array for real-time analytics and optimization to ensure consistent performance and compliance with SLAs.
However, since less than 10% of outages are caused by storage failures, InfoSight monitors data from other components of the IT infrastructure including servers, networks, virtual machines, storage infrastructure software, applications, and cloud storage. As a result, InfoSight has a global view of system and workload states at any point in time. To support application availability in the face of fluctuating workloads, InfoSight analyzes data from the entire infrastructure to identify problems and act before outages happen.
For example, InfoSight can help safely consolidate workloads. According to HPE, Primera, powered by InfoSight, "delivers the visibility for optimizing application workload placement while accounting for application performance characteristics and interactions with other shared applications on an HPE Primera system."
Furthermore, the AI that is embedded in the HPE Primera storage OS predicts and optimizes performance based on workload needs. Data constantly being collected and analyzed, in real time, from the storage infrastructure. Based on this analysis, optimizations happen automatically and evolve with conditions including I/O spikes, component failures, added resources, and changing workloads.
Mission-Critical Reliability Features
In addition to InfoSight, HPE Primera leverages several other HPE solutions for mission-critical reliability. For high availability, HPE Peer Persistence enables a VM to be moved from one location to another without interruption or down time. In addition, Primera systems include Recovery Manager Central (RMC), a software solution that integrates Primera with HPE StoreOnce backup appliances to provides application-aware data protection. Applications supported out-of-the-box include Oracle, SAP, SQL Server, and virtual machines. RMC also provides simple and efficient backup to the cloud via and integration with HPE Cloud Bank Storage.
Simplicity
In the high-end storage market, customers have been suffering with complex and difficult to administer products for some time. The public cloud, with its simple consumption model, provides an attractive alternative. But, enterprises need to keep many mission-critical applications on-premises. To address this need, HPE Primera brings cloud-like simplicity to on-premises storage solutions.
Cloud-like On-Demand Storage
According to IDC, HPE Primera is designed to provide an "on demand" experience for on-premise infrastructure. This includes "everything from deployment to on-demand provisioning; system expansion; low-touch, real-time policy-based management to SLA goals; nondisruptive (and potentially more frequent) upgrades; integration with multi-cloud environments; and IASB 2019–compliant subscription pricing options."
HPE's goal is to provide autonomous, self-managing data storage through the HPE Intelligent Data Platform – a portfolio of products and solutions that the company states is "designed to accelerate application performance, transform data management, harness the agility of all clouds, and empower businesses by unlocking hidden insights within data in real time". This platform leverages HPE InfoSight to gather intelligence from the storage layer and above, preventing disruptions cause by problems anywhere in the storage, network, application, or server layers.
In addition, HPE Primera provides on-demand support for applications. Storage can be provisioned for new workloads in seconds. Systems come with prebuilt automation for VMware vCenter, Virtual Volumes, and the vRealize Suite.
Finally, customers can purchase HPE Primera through a pay-per-use subscription model via HPE GreenLake. In this way, organizations pay only for the storage they use and keep their storage infrastructure off balance sheet.
A Modular Storage OS for Faster and Simpler Upgrades
The HPE Primera storage OS is containerized, providing a menu of features, each of which can be added or modified without requiring the storage OS to be recompiled. This is a significant departure from 3PAR's monolithic OS. As a result, Primera customers benefit from faster, more frequent updates that are simple and reliable to implement.
The features implemented as services include RAID, thin provisioning, snapshots, quality of service, replication, and a self-healing erasure-coded data layout. Each of these features can be added or modified without requiring a recompile of the entire OS. HPE claims that this approach enables storage OS updates that are non disruptive and take less than 5 minutes. Similarly, controllers can be upgraded, and storage devices replaced with new media types, with no disruption of data or availability. HPE InfoSight pre-validates system updates by comparing an organization's infrastructure with other configurations across the entire installed base and uses predictive analysis to identify any potential issues and minimize deployment risk.
Market Position and Competitors
With their focus on simplicity, and their market-leading InfoSight AI technology, HPE is redefining the terms of competition in the high-end storage market. Primera is positioned at the high-end of HPE's storage products, above 3PAR. So, the product will compete against the other major players in high-end all flash storage: Dell's PowerMax, Infinidat's Infinibox, NetApp's AFF, and Pure Storage's FlashArray//X.
According to Steve McDowell of Moor Insights Strategy, "From a speeds/feeds perspective, I have no doubt that Primera will be competitive with PowerMax, AFF, FlashArray//X, and Infinidat. It's less about technology in that space today, with all players being more or less equal depending on workload and day-of-the-week, and more about positioning and filling out the portfolio." McDowell continues to explain that Primera should do well against their primary competitors – Dell EMC and Pure Storage, "The HPE sales teams have cracked the nut and figured out how to sell storage against Dell and Pure – those are the players who HPE is running into most as it closes business. Primera gives them great ammunition in that fight."
In the long run, it is tough for any company to maintain an advantage in hardware performance as all the competitors will be incorporating the latest SCM and NVMe storage technologies. But, HPE has real competitive advantage from InfoSight's industry leading AI and their 100% availability guarantee. The company has positioned HPE Primera to benefit from these competitive advantages.
Primera vs 3PAR and Nimble
Going forward, HPE has positioning Primera as their Tier 0 storage for mission-critical applications. It ensures the highest SLAs for resiliency, performance, scale, and uptime while making high-end storage easier to manage. HPE Nimble is now positioned as their Tier 1 storage for business-critical applications. Still highly reliable, but best for applications that can accept a short failover window, Nimble is also extremely simple to manage.
HPE 3PAR customers are encourages to migrate to Primera when they are ready. Everything that customers liked about HPE 3PAR gets even better with more simplicity, better performance, and global intelligence. These additional capabilities are designed to deliver radical simplicity for the high-end market.
HPE stresses, however, that there are no plans to EOL (end-of-life) 3PAR. HPE has shipped over 75,000 3PAR systems and is committed to providing those customers with long-term investment protection, including continued technical innovation.
Conclusion
HPE Primera provides a platform that delivers simplicity while simultaneously providing the performance and resiliency required to compete in the high-end storage market. Building on the 3PAR design heritage, and InfoSight's leading market position, Primera intelligently incorporates the latest SSD technology, pervasive AI, a containerized OS, and a massively parallel architecture. The result is a largely self-managing high-end array that can meet SLAs without requiring intensive tuning and administrative expertise. With Primera, HPE sets a new bar for the customer experience in the high-end storage market.
IIS - Your Partner for HPE Data Storage
International Integrated Solutions (IIS) is a managed service provider and system integrator with deep expertise in HPE storage solutions and the entire HPE product line. IIS is a distinguished HPE partner, winning HPE Global Partner of the Year in 2016 and Arrow's North American Reseller Partner of the Year in 2017.
As your service provider, IIS brings deep expertise and experience. Having solved a myriad of problems for hundreds of customers, they bring a holistic view of the datacenter that includes storage as a component. IIS can help your organization make the best storage decisions in the context of your existing datacenter infrastructure and workloads.