Many IT managers assume that cloud services like Microsoft Office 365 provide all the data protection their organizations need. Unfortunately, that is not true. Microsoft provides a highly available cloud platform that enables your users to reliably access their email, documents, and files. But, they do not create backups of your data.
There is quite a bit of confusion about this issue. But, what it boils down to is that a company is responsible for protecting its Office 365 data. To accomplish this, IT needs to ensure that regular backups are made.
For example, suppose that important emails or documents are deleted by mistake. In a busy organization, this inadvertent deletion may go undetected for quite some time. Then, six months later the organization may need those documents. Maybe a dormant project is being re-started. Or an audit uncovers that they are missing. Those documents might now be required for legal, compliance, or regulatory reasons.
Whatever the reason, the deleted Office 365 documents cannot be recovered unless the organization has made a backup. That is one example why, when implementing data protection for an organization, IT managers need to include Office 365 as well as on-premise data.
This post describes what data protections Microsoft does and doesn't provide for Office 365 and how to implement a backup solution that fills the gaps.
Microsoft Office 365 Lacks Comprehensive Backup Services
Selecting Office 365 is a great choice for organizations of all sizes. Microsoft provides a high availability service and has invested considerable engineering effort building a highly reliable infrastructure. But, Microsoft does not fully backup customers' data on their behalf. Office 365 customers are responsible for ensuring that they have access to, and control over, the data stored and managed by Exchange Online, SharePoint Online, and OneDrive for Business.
Geographic Redundancy is Not Backup
There is widespread confusion about Office 365's lack of comprehensive backup services. In part, that is because Microsoft provides redundancy that protects users against failure within their own Office 365 cloud infrastructure. An Office 365 customer's data is stored primarily in one Microsoft datacenter, but a redundant copy is maintained in a second location to ensure availability in the event of a failure in the primary data center. This geographic redundancy is an important reliability feature, but it is not a backup. Its purpose it to ensure high levels of availability and uptime.
By comparison, a true backup is a historical copy of a company's data stored in a separate location – outside of the Office 365 cloud infrastructure. Backups are typically performed at regularly intervals (e.g., daily, hourly) and an organization should have full control of its backup data. Full control means having direct access to the backup and the ability to restore data, documents, or emails from it.
Backup Services that Office 365 Lacks
Even if they understand that Office 365 does not provide backups, organizations may be tempted to believe that traditional backups are not needed in the age of cloud services. This is not true for most organizations. To illustrate, here are some mission critical backup services that are not provided by Microsoft Office 365:
Recovering deleted users – When an organization deletes an Office 365 user, accidentally or on-purpose, the deletion is replicated across the Microsoft infrastructure and that user's personal SharePoint and OneDrive data is lost. It cannot be recovered.
Recovering deleted emails – Permanently deleted emails are retained for a maximum of 30 days. Company policies or compliance regulations may require much longer retention periods.
Recovering from malicious acts – Suppose that a disgruntled employee deletes important document or emails. By the time anyone notices they are missing, the Microsoft infrastructure may have already purged them.
Legal discovery – When an organization is involved in litigation, oftentimes the discovery process needs to search for and uncover documents and emails that are up to 12 years old. Without a regular backup processes in place, much of that data will be gone. This can a big problem, because, often, the purpose of discovery is to build a case to defend the organization. Office 365 has a Litigation Hold feature, but that doesn't help to preserve documents that were created, edited, and deleted long before the litigation commenced.
Ultimately, the data residing in Office 365 is the customer's responsibility – not Microsoft's. Most organizations need regular backups to ensure access in the event of an outage and to preserve a historical record for data recovery in any contingency.
Veeam Backup for Microsoft Office 365 Eliminates these Risks
Once an organization has decided to make regular backups of Office 365, they need to pick a solution. While there are many products to choose from, Veeam Software stands out from the crowd. Veeam is a global leader in cloud data management with over 343,000 customers. They have the largest market share in the Office 365 backup segment, with 55,000 organizations representing over 7 million Office 365 mailboxes. Their product provides reliable backups and powerful tools for restore and discovery.
Veeam Backup for Microsoft Office 365 fills the data protection gaps in Microsoft's service. It enables organizations to easily and securely backup data from a cloud-based instance of Office 365 as frequently as every five minutes. Backups can be stored on-premises, giving an organization complete control of their data. Alternatively, backups can be stored on site, with a co-location service, a managed services provider, or in the public cloud (i.e., Azure or Amazon Web Services). Veeam Backup for Microsoft Office 365 can also be one component of a comprehensive cloud backup and disaster recovery solution.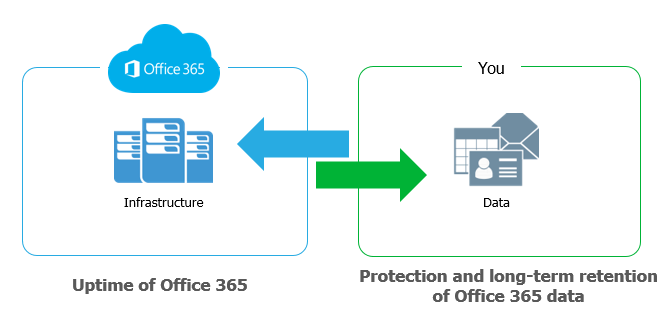 Microsoft is responsible for Office 365 availability. Customers are responsible for protecting their data.
Flexible Restore Capabilities
In addition to providing streamlined backup services, Veeam reduces the time and effort needed to find and restore Office 365 items. Veeam provides extremely flexible capabilities enabling access to historical data from:
OneDrive for Business – files, folders, and users.
Exchange Online – emails, attachments, folders, mailboxes.
SharePoint Online – documents, libraries, and sites.
Included with Veeam Backup for Microsoft Office 365 are Veeam Explorers for Exchange, SharePoint and OneDrive that provide a quick search and granular recovery capability. Each Veeam Explorer provides an easy-to-use interface for navigating the backup directory structure and restoring the needed items.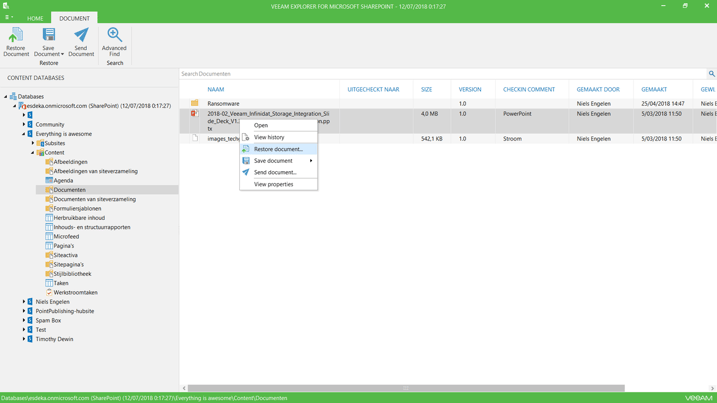 Restoring a document from a Microsoft SharePoint backup using Veeam Explorer.
Discovery for Regulatory, Compliance, or Audit Needs
For regulatory, compliance, or audit needs, organizations require more than just the ability to easily restore data from backups. They also need tools to help their staff discover documents and emails related to particular topics, transactions, or individuals. Veeam provides easy-to-use advanced search capabilities that can quickly search backups of Office 365 mailboxes, emails, files or sites to discover relevant historical documents.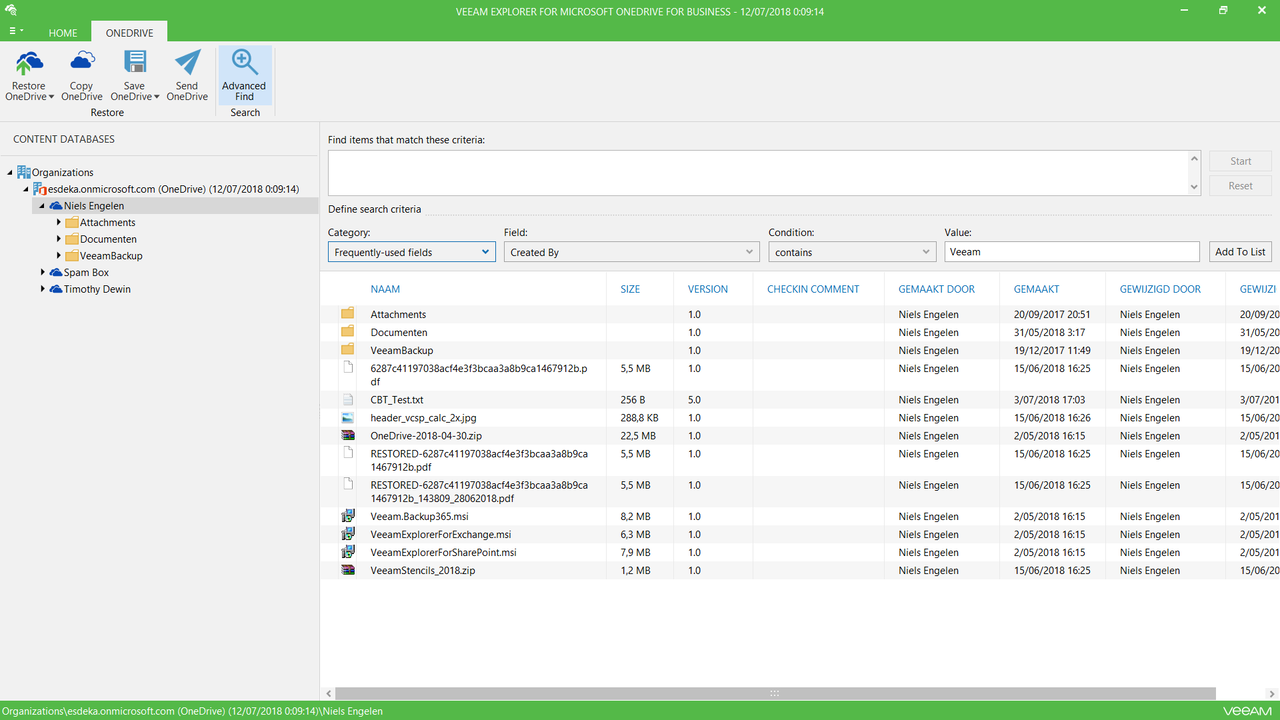 Discovering documents with advanced search in an Office 365 archive created by Veeam Backup.
Unified Backup for On-Premises Exchange and SharePoint with Office 365
Many organizations support both on-premises Exchange and SharePoint instances as well as cloud-based Office 365. Veeam Backup for Office 365 enables those organizations to have a unified backup system that creates consolidate backups and enables streamlined discovery. In addition to protecting hybrid email and SharePoint deployments, a Veeam Backup solution enables you to migrate mailbox data between on-premises Exchange and Office 365.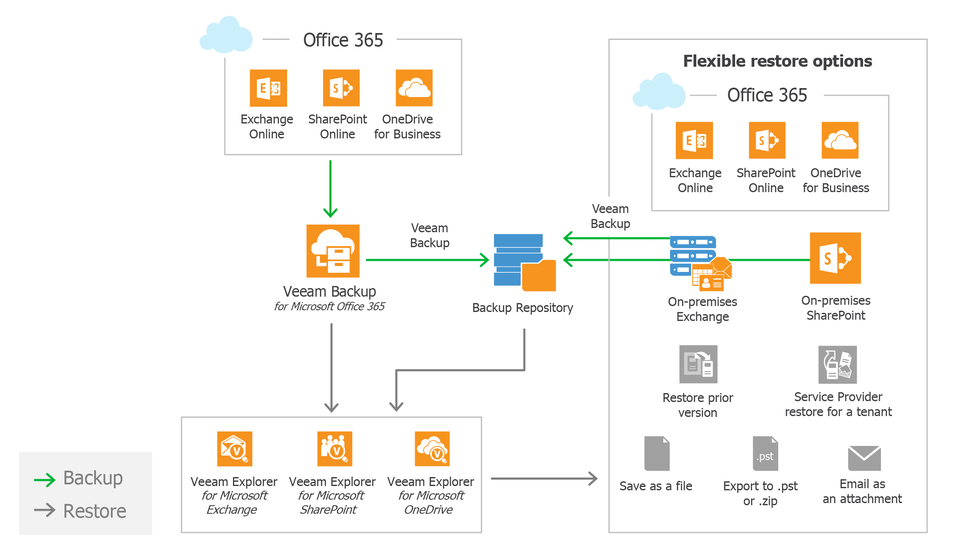 Unified Backup and Restore for Office 365 and On-Premise Exchange and SharePoint
How to Get Started with Veeam Backup for Microsoft Office 365
Organizations that want to get started, or just learn more about Veeam Backup for Microsoft Office 365, can call IIS at 516-396-6700. IIS can help assess your needs and design an Office 365 solution that fits in with your organization's overall backup and recovery needs.
IIS – Your Backup Solutions Partner
International Integrated Solutions (IIS) is a consultant, integrator, and managed services provider with deep expertise in backup and disaster recovery services. Having solved a myriad of problems for hundreds of customers, IIS brings a holistic view of the datacenter and can help organizations to evaluate their options, design and implement a solution, and provide ongoing support as needed.
In addition to Office 365 backups, IIS can implement solutions for:
Rapid Restore – Because cloud backups can be slow to restore, organizations needing to support fast recovery times may want to consider "rapid restore" solutions that store recent data backups on-premises and older archives in the cloud.
Backup Hosting – Today there are many options for hosting backup data – from on-premises, to colocation, to public cloud providers. IIS can help select and implement the best option to meet cost and recovery time objectives.
Disaster Recovery as a Service (DRaaS) – In addition to data backups, a full disaster recovery infrastructure can be implemented in the cloud, ready to be provisioned only when needed. IIS can help evaluate and implement this cost-effective alternative to traditional disaster recovery options.