All the Data Capacity You Need with "Six Nines" Reliability
We live in a data-driven world. Our dependency on data is increasing, and the volume of data we generate is accelerating exponentially. And so is the risk of degraded system performance and data loss for companies continuing to rely on traditional storage media. As a result, many organizations are migrating to solid state flash drive (SSD) technology as their primary storage media because of its many advantages over hard disk (HDD) storage with all its moving parts. Intelligent, self-managing flash storage arrays can help deliver fast and ultra-reliable access to data, regardless of the size or data storage requirements of your organization. If your company is considering a move to all flash data storage, you need to consider HPE Nimble.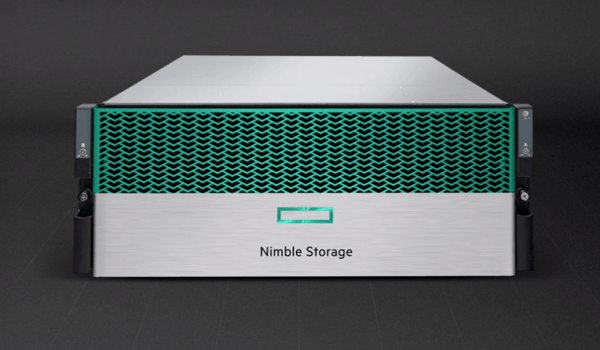 HPE Nimble Storage Arrays
HPE Nimble data storage products are designed for mid-sized companies needing to consolidate and modernize storage, as well as departmental solutions within larger enterprises that need an efficient and easily managed data storage solution. HPE Nimble products are selected by organizations looking for the speed of flash storage, efficient data reduction for significant space savings, industry-leading reliability, and cloud integration.
HPE Nimble offers three types of flash arrays to provide reliable storage options for every environment. All-Flash Arrays store all data in solid state flash drive technology for high performance across all reads and writes. Adaptive Flash Arrays combine traditional magnetic HDDs with solid-state drives in a hybrid configuration that allows organizations to enjoy the low cost of HDDs for infrequently accessed data while leveraging high-performance SSDs for data they access more often. Secondary Flash Arrays also employ a hybrid SSD/HDD storage architecture, but these flash products offer enhanced data deduplication features and are optimized for backup solutions and near-instant disaster recovery.
All HPE Nimble products run the NimbleOS operating system, which provides a variety of common services including dynamic flash-based read caching, write-optimization, replication, and the industry's leading software technology for data reduction. This always-on, inline, data deduplication technology processes deduplication before other data reduction techniques are applied, and before data is written to flash, ensuring you do not waste space storing multiple copies of data. In fact, HPE Nimble is guaranteed to store more data per terabyte of flash storage than other all-flash arrays, maximizing storage capacities and your investment in flash technology.
Future-Proof Your Flash Investment
In addition to deduplication, HPE Nimble provides data compression, block folding, thin provisioning, zero-pattern elimination, and a host of other techniques to minimize data storage. Further, HPE Nimble All-Flash Arrays are future-ready, protecting your investment for today and tomorrow with optional capabilities such as:
Cloud integration. Using HPE Cloud Volumes in combination with HPE Nimble storage arrays, you can create a multi-cloud data center that enables you to move data to the public cloud, to another provider, or bring it back on-premises without incurring costly data migration charges.
NVMe support. Compatible with the non-volatile memory express (NVMe) protocol for accessing high-speed storage media, All-Flash Arrays remove bottlenecks caused by the traditional SCSI protocol for improved performance.
Storage Class Memory (SCM). This new low-latency storage media provides performance at near DRAM levels – at least 10 times faster than existing flash technologies.
Achieve "Six Nines" Reliability with InfoSight
Not only is HPE Nimble scalable and efficient, but it is incredibly reliable. It leverages predictive analytics to prevent issues and help deliver an astounding 99.9999% guaranteed availability. This is enabled by InfoSight, an advanced AI-based platform bundled with all HPE Nimble products. InfoSight gathers data from sensors monitoring flash array performance on all HPE Nimble devices around the globe. Data is analyzed in the context of your infrastructure and alerts are sent to IT staff to address impending problems before they occur. That's the kind of reliability you need to keep your business moving forward.
IIS - Your Partner for HPE Data Storage
International Integrated Solutions (IIS) is a managed services provider and systems integrator, and HPE Partner of the Year, with deep expertise in HPE storage solutions and the entire HPE product line. Thinking of moving to solid state flash drive technology? IIS can help determine if HPE Nimble products are the right solution for your organization.


Click here to get a complimentary storage evaluation and begin your journey to highly reliable data storage with HPE Nimble and IIS.