IIS is excited to announce achievement of Nutanix Champion Reseller status in the Nutanix Elevate Partner Program.

The Elevate Partner Program differs from traditional partner programs by providing a unique emphasis on partner capabilities and competencies to sell and support the Nutanix portfolio, rather than revenue targets.
Nutanix recognized IIS for its significant investment in certified consultants and its strong delivery capabilities around VDI, Hybrid cloud, and Automation.

A Nutanix Champion Reseller partner is the highest competency level in the Elevate Partner Program and is achieved by partners who have invested into Nutanix experts with deep sales, technical, and services delivery competencies and who consistently sell the full Nutanix portfolio. With this program Nutanix focuses on investments and tools that enable partners to grow their business as they support customers in adopting hybrid and multi-cloud solutions.

"The Nutanix relationship has been a key focus for IIS. Nutanix provides freedom of choice, allowing IIS to work with our customers and design the optimal solution for their needs. Thanks to Nutanix we can offer customers options on hypervisor, hardware platforms, hosting options, and cloud providers, optimizing their solutions based on desired business outcomes. With IIS expertise and consulting services, we make these available to our customers as a fully turnkey solution that can be consumed as a traditional CapEx model or as a service in an OpEx model," said John Iacone, President, International Integrated Solutions, LTD.

For over 30 years, IIS has helped companies solve complex business challenges and maximize ROI throughout the life of their projects. As a Nutanix Champion Reseller, IIS provides deep expertise in assessing customer environments and can design, implement, and optionally host and manage solutions from hyperconverged (HCI) enterprise cloud to a fully integrated Hybrid cloud. IIS cloud experts leverage automation to drive business intelligence
Additional Resources:
More details on the Nutanix Elevate Partner Program can be found at
nutanix.com/partners/resellers.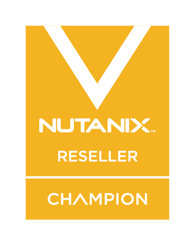 About IIS
International Integrated Solutions (IIS) is a leading managed services provider and systems integrator that delivers compute, storage infrastructure and management solutions for the data center, public and private clouds. Since its inception in 1990, IIS has built high-status partnerships with the likes of Dell Technologies, Hewlett Packard Enterprise (HPE), Microsoft, Nutanix, Nvidia, RedHat, VMware and others.
For more information visit iistech.com, Twitter or LinkedIn