The enterprise has already made the biggest shift. It relates to the IT mindset of delivering resources in a services-based operating model vs. an application based model. This is at the heart of the digital transformation. The focus is on streamlining processes, ensuring collaboration, improving automation and increasing agility. Transformation can be achieved; and it can be simplified thanks to the Ormuco Stack.
Get Smart With Ormuco's Turnkey Cloud Stack
The biggest challenge for any enterprise when defining their cloud architecture is gaining the on-demand elasticity of the public cloud plus the data privacy, compliance and customization of the private cloud – all behind the corporate firewall.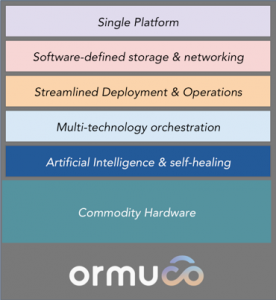 Ormuco has overcome the conundrum of open source tools, by packaging and containerizing them for ease of deployment and updating. It alleviates the operational burden, just like the public cloud, but in a private cloud deployment. The Ormuco cloud stack fulfills developer expectations for collaboration, APIs, extendibility and customization. It delivers all the services a DevOps team expects and requires, such as on-demand access to compute or storage resources; messaging, DNS, Identity & Access Management and load balancing services; plus a user interface customized to your organizations development needs.
The Ormuco Stack simplifies cloud adoption by providing a stack that incorporates key cloud functions but provides flexibility in how it is deployed. In addition it can address common network bottlenecks with features like direct private networking to virtual machines and the software stack, improving performance and addressing, or data compliance. Or, you can create your own white label cloud service.
Ormuco overcomes persistent challenges such as what to do with existing IT investments. It can all be repurposed! The Ormuco Stack can be deployed on industry standard hardware of your choice, resulting in cost savings related to complex hardware appliances and proprietary licensing. The software enables the deployment of bare metal, virtual machines or containers, supporting both cloud native and traditional architectures. In addition, multiple cloud stacks can be deployed, on premise or off-premise. Resources and workloads are easily managed through a single control plane, allowing the enterprise to migrate workloads, as needed, throughout the hybrid architecture.
What sets Ormuco apart from the competition is its ability to simplify deployment, visibility and management of one or many Ormuco clouds.
The Ormuco Stack prepares you for the next wave of IT architecture – decentralization. Monolithic architectures are a thing of the past. IT processes will be designed around service requirements for latency, connectivity and localization rather than application, function or department based siloes. A platform focused on service-centric processes, container-based architectures and the development of micro-services provides the agility, flexibility and time-to-market to be competitive.
The 1-2 Punch of Ormuco + HPE Synergy
Simplification and efficiency are the name of the game as IIS introduces Ormuco on HPE Synergy. IIS understands the power of these synergies. Both Ormuco and HPE Synergy are designed for the services-oriented economy, providing the automation, manageability and orchestration needed for enterprises to easily migrate to cloud architecture.
Both Ormuco and HPE have worked to take the complexity out of open source technology and infrastructure deployment. HPE Synergy focuses on composable infrastructure and how it can be used for a variety of applications and workloads. Ormuco addresses how application workloads access resources across hybrid cloud deployments. While Ormuco on HPE Synergy can scale on-premise to as many nodes as any other OpenStack solution, Ormuco on HPE Synergy is also a compact bundle for edge deployments.
Ormuco is a charter member of HPE's Cloud28+ marketplace. This community fosters collaboration to increase knowledge sharing, create new business alliances and accelerate business outcomes. Ormuco is providing the underlying platform and facilitating ISV adoption of the platform.
IIS + Ormuco – Paving the Way to Hybrid Cloud
IIS is your trusted technology partner. When it comes to strategic partnerships, like Ormuco and HPE Synergy, we compose the optimal set of people resources and technologies to architect the right solution for your environment. We help prioritize and balance your technology requirements as aligned with your business needs, identifying required customization or integrations.
IIS understands that change is unsettling. However, by partnering with Ormuco we are mitigating risk by delivering a cloud stack that provides:
All the benefits of the best open source technologies (e.g., OpenStack, Kubernetes, Ceph, Docker, Ansible and more)
Software-driven hardware optimization
Streamlined deployment and operations, to optimize IT resources
Multi-orchestration with access to Kubernetes, OpenStack and Docker
User-friendly portal for simple consumption, compliance, governance, accessibility and reporting
Cost-effective alternative to Azure Stack, AWS and others
It's time to decrease your dependence and investment in siloed IT. It is time to understand that virtualization is not a private cloud. Instead, choose a solution that consolidates tools and allows you to reduce license costs, support fees and manual efforts. Most importantly, invest in a platform that is flexible enough to be customized to address the most critical needs of your environment while adhering to OpenStack standards, today and tomorrow.
IIS is Ormuco's exclusive system integrator partner in North America. As Ormuco has addressed the biggest challenges of open source cloud and packaged them within its Stack, IIS will manage deployments of Ormuco Stack on HPE Synergy. The result - simplifying your adoption of cloud.
Are you ready to begin your journey?