According to industry analyst Gartner, there are three defining attributes for storage solutions moving into 2018. The first is that storage must be predictive. Second, storage solutions must be cloud-ready; data must easily migrate between on-premises and public cloud, and allow organizations to perform cost-effective backup and archival to the cloud. The third attribute is that storage must be timeless. Customers want today's investments to sustain them in the future even as new applications and capacity demands arise.
With growth in Machine Learning and Artificial Intelligence (AI), data storage and data management are even more critical. Machine learning is based on the input or data processed by the learning model. Not only is the enterprise looking for efficient ways to move and store data to support the learning process, they need to be assured of the integrity of the storage platform.
While storage was once reserved for niche applications, it is now a standard choice for most primary applications. The flash array market has been growing rapidly – with the all-flash market growing 75% from Q1 2016 to Q1 2017, according to IDC – and hybrid arrays combining flash and hard disk drives also growing a fast pace.
The persistent challenge of storage is access to and movement of data, and that storage is always tightly entwined with applications, physical or virtual servers, and networking. So, are data delivery challenges the result of an issue with the storage or another element of the data center? HPE Nimble Storage can answer this question. It combines flash storage and predictive analytics to deliver greater than 99.9999% guaranteed availability!
How Flash Works
A quick primer on flash storage highlights its benefits for any data center. The speed at which it writes data and performs random I/O operations is how flash storage got its name. It uses nonvolatile memory to store data. That means, even if you lose power, you won't lose data. The primary differentiator is that flash is all solid state. Sometimes flash is referred to as solid-state disk or SSD. There are no moving parts, as are found in hard disk drives (HDD).
Flash arrays run cooler than disks, and are lighter and more compact. The result is reduced cooling costs and decreased floor and rack space. The advances in compression where users can compress data into half the space, combined with the debut of deduplication eliminating redundant data, has reduced the amount of data that needs to be stored. SSDs are much lighter than HDDs, making it easier to build modular data centers or consider creation of "edge" solutions.
The biggest challenge facing the flash array market has been cost. But like most markets, even though flash chips are complex and expensive to produce, the increase in production volumes and market familiarity has driven the cost of flash arrays down.
Performance is the primary benefit of all-flash arrays; they support heavy I/O needs and deliver high utilization without performance degradation. All-flash arrays are a cost-effective architecture for virtualized infrastructure, high transaction workloads and video-rich applications.
Getting Flashy with Nimble
The HPE Nimble storage platform combines fast, reliable access to data and predictive analytics using a Multicloud Flash Fabric™. The result is vastly improved application performance, with 1.2 million IOPS at sub-millisecond latency. That's fast!
But, how does HPE Nimble do it? The foundation is the flash storage itself. HPE Nimble Storage includes a variety of array types that can be deployed on premise or in the cloud, based on your operational and business requirements. But the key to optimizing your storage environment is the multicloud flash fabric. HPE Nimble shares the same Common Data Services (e.g. OS, features, functions) across all choices of flash arrays. This means your application data may be located anywhere, whether in a data center or in the cloud.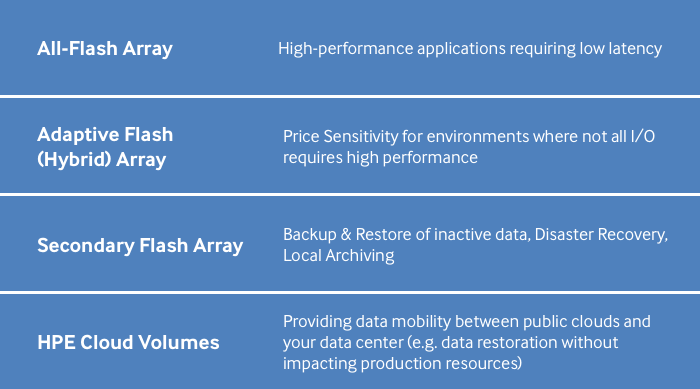 This flexibility allows you to add capacity based on your need for I/O performance, operational flexibility or budget constraints, without worrying about forklift upgrades. If you need improved storage performance, data can be seamlessly and transparently moved to an all-flash array. If cost is a concern, it is equally easy to replicate data from on-premise HPE flash arrays to HPE Cloud Volumes.
All Nimble arrays, running NimbleOS4.4 or later, are cloud-ready. This simplifies data replication between on-premise storage resources and those located elsewhere. Nimble Cloud Volumes deliver enterprise-grade reliability and security for applications running in Amazon Web Services or Azure – all in a pay-as-you-go model.HPE Nimble is, well, nimble when it comes to virtualized infrastructures. Sizing and maintaining a virtualized environment can be complex. Inconsistent performance impacts and disappoints users, but Nimble provides reliable performance – reading and writing IOPS consistently.
Equally beneficial are the capacity savings that can be achieved with Nimble. Data reduction capabilities include content-aware deduplication, and variable block compression to help manage capacity. However, scaling capacity is an eventuality and Nimble enables nondisruptive scaling within an array or scale-out with up to four arrays managed as one.
The Nimble platform is architected for reliability. There is no single point of failure due to redundant components. Dual controllers allow for nondisruptive upgrades that will not impact performance in the rare case of a controller failure. The software architecture is also fault-tolerant and delivers robust data integrity.
The Secret Sauce
The game-changing differentiator for HPE Nimble lies within HPE InfoSight™. Since its inception HPE Nimble has incorporated analytics into the core architecture of every system. InfoSight Predictive Analytics applies data science to identify, predict and prevent problems across infrastructure layers.
The HPE InfoSight data collection and analysis engine consists of three interrelated elements:
Performance correlation analysis: quickly identifies leading factors contributing to performance or latency issues
Detailed systems modeling: identifies bottlenecks impacting workload performance
Powerful predictive algorithms: simplify administrator ability to visualize organic data growth, and identify when arrays are approaching capacity limits
By building diagnostic sensors into every module of code, InfoSight correlates thousands of sensor data points per second across the entire installed base. The learning infrastructure identifies any new problem and assigns it a predictive health signature. Think of this as DNA: InfoSight uses pattern-matching algorithms to search for health signatures to either prevent an issue from occurring or to proactively repair it before it disrupts other activities.
As applications increasingly drive today's enterprise, customers need self-managing IT models. InfoSight marries the power of big data with the promise of machine learning. By continuously aggregating and correlating data from across the data center, InfoSight can determine if a problem resides within the storage, or if the root cause lies elsewhere. Non-storage factors such as misconfigurations, host, network or VM problems are often the cause of bottlenecks in the data path.
HPE Infosight is particularly valuable for virtualized environments using VMware. A part of HPE InfoSight Predictive Analytics, VMVision provides a granular view of the resources used by every virtual machine connected to Nimble Storage. This allows you to correlate the performance of VMs in a data store with insights into hypervisor and host resource constraints such as a vCPU. The benefit is a broader view of potential latency factors, whether from the storage, the host or the network.
54% of the issues InfoSight resolves are outside the storage
The value of HPE InfoSight cannot be overstated. It is able to predict issues and proactively resolve them before a customer is even aware of the problem.
AI-Enabled Support
The application of data science to support case analysis completely disrupts current support models. InfoSight continuously monitors and analyzes sensor telemetry from its globally installed base of millions of sensors from over 10,000 customers. This data is what allows InfoSight to predict or recognize a potential problem, often before the customer creates a case.
99% of cases are auto-created. 86% of cases are auto-resolved.
For those unresolved cases, a dedicated Level 3 or PEAK engineer is assigned to work with engineering and InfoSight to quickly diagnose the problem. Nimble arrays do not require Level 1 or 2 support engineers because of the Infosight analytics engine. This engine is so efficient that HPE can support over 200 arrays with a single Level 3 engineer, where other storage support platforms require one support engineer for every 8-10 arrays.
InfoSight also completely shifts the support model. Hours of troubleshooting are avoided. A health signature is created and the PEAK engineer develops a resolution plan, completes the fix and closes the case.
InfoSight retains the health signature and applies pattern-matching algorithms to prevent other systems from experiencing the same problem. The result is a declining number of customer-involved support cases. In fact, HPE Nimble only offers Level 3 support because InfoSight addresses Level 1 and 2 cases automatically.
HPE Nimble pricing is all-inclusive, meaning software licensing is included with the purchase of the array. All software upgrades are free. There is also an option to upgrade to a faster controller every three years – for free.
HPE Nimble provides the high performance needed for modern data centers. InfoSight guarantees that your administrators will spend more time helping teams take advantage of its all-flash arrays, not troubleshooting problems.
The IIS Value Add
IIS is your trusted technology partner. When it comes to HPE Nimble, we bring the insight to recommend and design the optimal storage architecture for your environment.
As an HPE Global Partner of the Year, we have the capabilities to assess and analyze workloads and data center architectures to give you the right balance of SSD and HDD resources, on-premise or in the cloud. IIS facilitates on-premise or cloud deployment leveraging its state-of-the-art Integration Center to fulfill "last mile" solution delivery through staging and testing of the end-to-end architecture.
After deployment, our managed services deliver enhanced proactive, unified monitoring of your infrastructure environment. Leveraging InfoSight's embedded predictive analytics, monitoring and management capabilities, IIS delivers unified monitoring of your entire HPE and non-HPE infrastructure, delivering rich dashboards, alerts, governance and custom reports. With dedicated resources to monitor, manage and maintain your cloud, hybrid or on-premise infrastructure, your team can focus on business priorities while we focus on infrastructure.
In addition, IIS can help you turn capital expenses into operating costs through the use of pay-as-you-go financing solutions. With a defined methodology tied to your anticipated usage, a financial model for Nimble is a reality.
Our goal: to bring you in depth knowledge of HPE Nimble and complementary vendor solutions, to tailor a solution to meet your business, organizational and technology goals.